GeneNet
What's New
Why GeneNET
FAQ
GeneNet

What's New
What is GeneNet?
MARKET AVAILABILITY
Opportunity for producers or feedlots to market on a value based grid where cattle are in a timely manner
DATA YOU CAN USE
Carcass data as a group, individual or detailed
See how genetic improvement pays
VALUE-BASED MARKETING
Breed and raise better cattle. Get paid for the carcass value
Flexibility in selling with 2 base-price options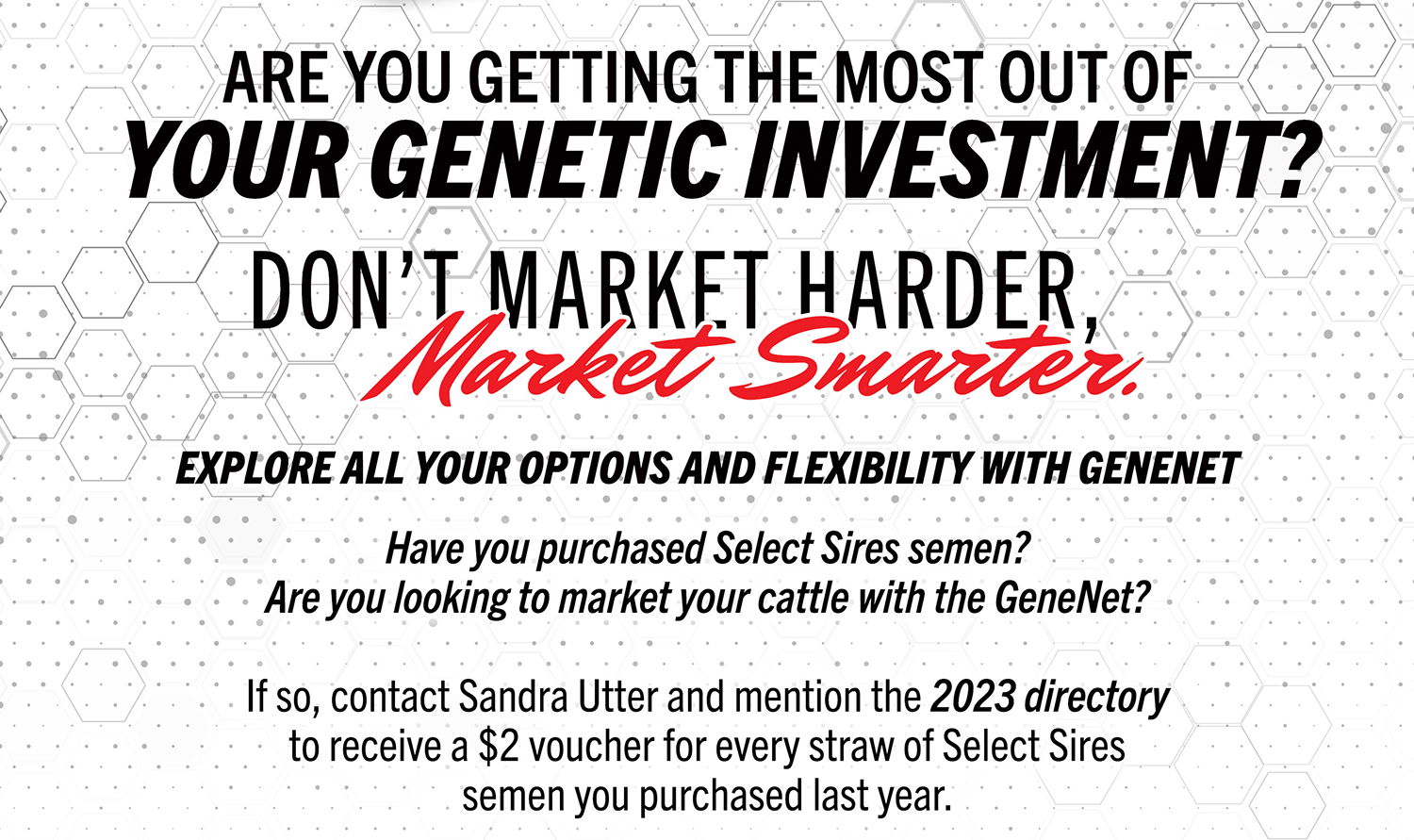 Why GeneNET
Select Sires, a leading genetic and supply chain development entity, has purchased GeneNet and will assume full responsibility May 31, 2021.  The new manager of GeneNet is Sandra Utter, who is no stranger to carcass data, grid analysis and genetic selection.  Sandra spent an early part of her career with Precision Beef Alliance, Nebraska Corn-Fed Beef, and Snake River Farms before joining the genetic supplier network with ABS then moving to Select Sires in 2019.  In addition to Sandra's daily management, Dr. Larry Corah (previously VP of CAB) and Lorna Marshall (VP of Beef Genetics at Select Sires) also work on the team with packing partners in an effort to enhance the grid structure and premiums along with reports and information.
MARKET AVAILABILITY – VALUE-BASED MARKETING – DATA YOU CAN USE
FAQ
What is GeneNet?
GeneNet is a grid marketing company established in 1999 by Dr. Ken Conway. Dr. Conway started the company to help producers capture value for producing better cattle by selling fed or finished cattle on a value-based grid. Through the years, GeneNet evolved into a grid that caters to producers of all sizes that retain ownership of their calves or buy cattle to feed out. Select Sires Inc. purchased GeneNet to offer our farmer owners:
Market access to cattle producers
Carcass data, so producers can make improvement
Better marketing opportunities
Select Sires Inc. is introducing new resources and opportunities to customers to make genetic and management decisions easier to manage and measure. GeneNet will help producers add and capture value for their cattle throughout the production chain.
What type of beef producer is GeneNet designed for?

GeneNet works best for:
– Producers looking for additional and better grid marketing opportunities for their fed cattle
– Producers who need access to markets where they can determine the best time to sell and ship cattle
– Producers who want to obtain carcass data on the cattle they sell
The fed cattle can be marketed when the producer believes they have reached the ideal market window based on all market conditions.
What are the advantages of GeneNet to participants?

Market availability – producers can schedule cattle based on when they want to market cattle
Access to a competitive grid – producers have access to two distinctive grids in different locations in the Midwest
Access to carcass data that is gathered based on detail needs and returned in various formats for review and analysis
What grids or marketing opportunities are available?
GeneNet has competitive grids with JBS in Grand Island, Nebraska, Greeley, Colorado, and Hyrum, Utah. GeneNet also has competitive grids with National Beef in Dodge City and Liberal, Kansas as well as Tama, Iowa. Each grid is different and offers base pricing, premiums and discounts for fed cattle.

Are special tags needed in the cattle?
No special ear tags are needed to participate in GeneNet but Select Sires is working to provide options that may help with data collection needs. Presently, tag transfer can be accomplished with dangle or EID tags.

What is the process to schedule cattle?

To schedule cattle for harvest at Grand Island, Nebraska, producers need to contact Sandra Utter at (307) 287-6647 or sutter@selectsires.com before noon on any Tuesday.
If a different location or packer is desired, producers need to call before noon on Mondays. Producers need to sign an affidavit with the intended packer before cattle can be scheduled for harvest.
GeneNet needs to know the level of data requested, a headcount of cattle and additional details to make sure data is gathered at the time of harvest.
What types of data are collected and returned to producers?
Producers may receive individual or group carcass data. For groups without tag transfer, producers can elect to receive group data which lists each carcass individually with HCW, Yield Grade and Quality Grade. For groups with tag transfer information supplied by the producer, the same data is returned but each individual carcass will have the associated ear tag matched with it. Detailed data matches the ID tag to the carcass information along with the additional information of REA, FT and Marbling Score.
What is the cost to participate?
The base fee is $7/head and allows producers access to the grids to market cattle and they will receive basic data in return. The tag transfer fee is an additional $3/head and will tie the ear tag to the basic carcass data on an individual basis. Detailed data costs an additional $3/head ($13/head total) for the data with tags and REA, FT and Marbling Score. GeneNet maintains historical benchmark data to compare cattle selling now versus those sold previously on the grids. The records date back to 1999 and provide a perspective about how cattle have changed throughout the years.